Buy a gift card at a store near you and give the latest entertainment for Android devices and more. Get your Google Play Gift Card online and top up your Play Store credit in an instant with 68 payment methods. Code instantly emailed!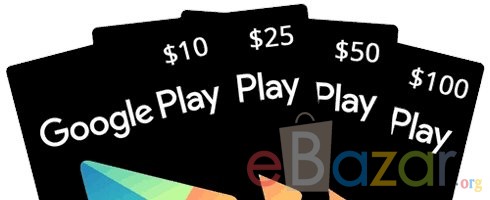 Top up your Play Store balance with a Google Play Gift Card
Get your Google Play Card online and receive your code instantly by email. Refill your Play Store balance within seconds. Access the massive catalog of apps, games, music, movies and digital books, while also keeping control of your spending. Ideal for families who share an account across devices and a great way to make screen time as safe as possible! Redeem your gift card code 24/7, and start shopping all the Play Store has to offer, without even leaving the couch!
Receive your Google Play code instantly by email
Simply select the amount of credit you want on your card and choose from our wide variety of payment methods at checkout. We accept over 68 of them to make purchasing your card as easy as possible. Right after your payment is received, your Google Play Code will appear on the screen and you will also receive it by email. Your invoice and the redeem instructions are also included in the email. Simply follow the redemption link, redeem your code and start shopping! If you run into any issues, our customer service team will happily help you. Please feel free to contact them via email, chat or Facebook Messenger.
Buy Google Play credit for apps, games and more
Use the prepaid credit in the Play Store for apps, games and add-ons. Take Pokémon GO! or PUGB to the next level with the help of some in-game credit! Because Play Store credit does not expire, you decide what to spend it on and when. Android phones and tablet users will definitely get the most out of the Google Play Gift Card. Use it on Google Play's huge digital entertainment library, including movies, music, ebooks and audiobooks. This constantly updated library is also available for iPhones, iPads and computer users.
Gift a Google Play Card
Not only is the flexibility of a Play Store Card great for you, but it also makes a great gift for someone else. Any gamer will love this Google Play credit. Make it even more thoughtful by adding one of our free gift card templates at checkout. Choose the occasion, the design you like best, write a message, and print or email it! You will have the perfect personalized gift for any occasion. Does Google not have what you're looking for? Try out an iTunes Gift Card or a Microsoft Gift Card for even more digital entertainment options.
How to enjoy Google Play with an iPhone or iPad
It's not just for Android! Apple users can download the Google Play app too. Everyone can enjoy the movies, music, and digital books that Google has to offer. Simply download the app to your iPhone, iPad or other iOS devices. Log in with your Google account and redeem the gift card code to top up your balance. Use the prepaid credit to purchase the content you're looking for. All that's left is to make yourself comfortable and have fun!